By Suzanne Rumsey, Ph.D., AIHA volunteer
Harrison Schlottke recently completed his Eagle Scout service project, which was a campaign to raise awareness about autoimmune hepatitis (AIH). One of the primary purposes of an Eagle Scout service project is to learn and demonstrate leadership skills while serving one's community. This is exactly what Harrison was able to do while educating others about AIH.
Harrison was diagnosed with AIH in the eighth grade, about age 14. He was actively involved in sports, so his mom knew something was wrong when he suddenly didn't have any energy or appetite. At first they thought he might be faking feeling ill to avoid school exams. But Harrison hated going to doctors, so his mom knew something was really wrong when he told her,
"I think I need to see a doctor."
The emergency department thought it might be his appendix, and they sent him home. His pediatrician the next day noticed that the bottoms of his feet were yellow, and Harrison was sent to the hospital for extensive blood work. While all of his liver enzyme numbers were elevated, Harrison was negative for all viral forms of hepatitis. He was also negative for antibodies, which meant that the doctors weren't sure what was wrong and sent him home again. He progressively got worse; his parents would take him to the ER, but he was sent home each time. Finally, after several weeks of this, he was admitted. He was in the hospital for two weeks, and in that time he had two biopsies and finally started responding to medications, which confirmed his AIH diagnosis. The entire diagnosis process took three to four months.
For his Eagle Scout project, Harrison decided to focus his efforts on AIH because of how it had impacted his life and health and to end stereotypes surrounding the word "hepatitis."
"I did more than 50 hours of work to make the community a better place," he said. "I wanted to do a fundraiser for the Autoimmune Hepatitis Association (AIHA), but that isn't an option, so I decided to do an awareness campaign."
Harrison began by calling area hospitals during his study hour and after school, but he quickly found that they couldn't partner with him because of their marketing policies. The hospitals referred him to the public library, and that's when the project really started taking shape. The library helped him get information into area newspapers and on library bulletin boards in the Grafton, Cedarburg, and Port Washington areas of Ozaukee County, Wisconsin, which is north of the Milwaukee metropolitan area.
Over the course of three months, Harrison planned and implemented his campaign. He procured informational pamphlets from the AIHA and handed them out to all who attended his event at the library. He also gave out information about the AIHA itself and answered questions about the disease.
Harrison has had a positive attitude and perseverance throughout his diagnosis and learning to live with AIH. This perseverance is shown in his Eagle Scout project and in Harrison's future plans. He just graduated high school and he's attending the University of Wisconsin – Eau Claire this fall to study nursing.
"I wanted to go into the Army, but my doctors said that wouldn't happen because of my disease. So, I decided to go for nursing to become an Army nurse," he explained.
He plans to be part of Reserve Officer Training Corps (ROTC) as well. When asked about his mindset during his diagnosis and about his disease he said,
"AIH sucks, but I wasn't scared. I just have to keep getting up and moving. I don't give up."
About the Author: Suzanne Rumsey, Ph.D.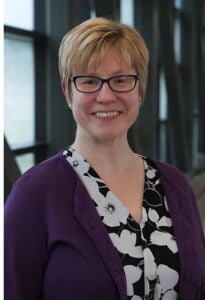 Suzy Rumsey was diagnosed with AIH in 2017. She is a Professor of English and Linguistics at Purdue University Fort Wayne where she teaches technical and professional writing and researches something called literacy studies, which is how people read and write in particular situations. She has a book being published in early 2021 about family history writing, and currently she and a colleague are writing a technical writing textbook. She has been married to her best friend, David Rumsey, for more than 18 years. Dave is Associate Dean of Engineering at Indiana Tech. They have five cats – Gus, Pip, Finnegan, Cooper, and Quincy. Together they enjoy cooking and baking, eating, crafting, home improvement, gardening in their large perennial garden, and vacationing at Disney World. Because COVID-19 has kept them at home so much, they have had to up their crafting game; Dave is learning to knit and Suzy is learning embroidery.