By the Autoimmune Hepatitis Association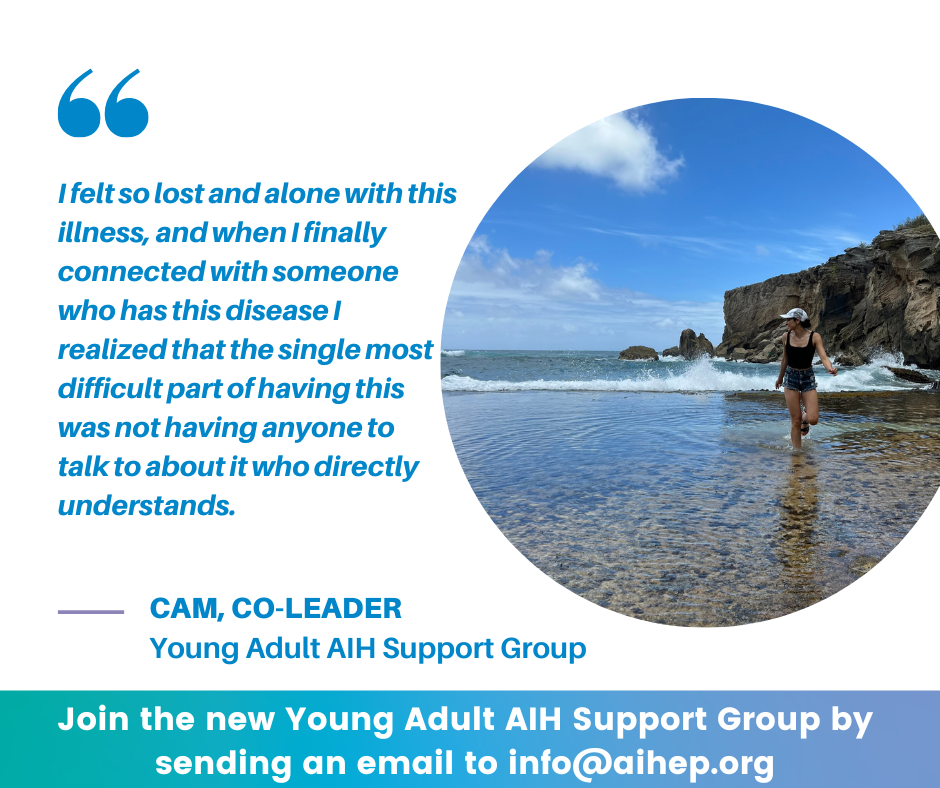 Two amazing young adults with AIH have stepped up to form a Young Adult Support Group for patients between the ages of 18 and 40 and their loved ones.
This new group will meet monthly on the last Sunday of each month at 8 p.m. ET. The first meeting is on Sunday, June 25. Please send an email to info@aihep.org if you would like to attend so we can send you the meeting invitation.
We recently interviewed Cam, one of the group co-leaders, and learned a little more about her connection to AIH and why she decided to start the group. Read more in the Q&A with her below.
Tell us where you live and a little bit about yourself.
I live in California. I'm an animal, theme park, and beach lover.
What is your connection to AIH?
I was diagnosed with this disease in 2020.
What do you find to be the most challenging aspect of AIH?
The unpredictability of living with AIH and how lonely it can feel.
Why did you want to start a support group for young adults with AIH?
I felt so lost and alone with this illness, and when I finally connected with someone who has this disease I realized that the single most difficult part of having this was not having anyone to talk to about it who directly understands.
What are your goals for the group?
To offer support to young people who are struggling with this illness. It can be a very lonely road to navigate with many unanswered questions, and being a young adult with this disease can bring some unique challenges that can be difficult to navigate alone. I want to help speak to those challenges that young adults face.
What would you say to anyone who might be hesitant to join a support group to encourage them to attend?
Even if you just want to turn off your camera and listen, we are here! I understand being shy and nervous about these things, no pressure and we are here to meet you where you're at.
Can you share any advice you have for other young people living with AIH?
Therapy! Anxiety and depression is very common, especially with the medications we take. Ask for help!
What is one thing you wish you had known when you were first diagnosed with AIH?
Don't give in to the sugar and carbs on the steroids, you will regret it.
Do you have anything else you'd like to add?
This condition has taught me to smile at the simple things and spend more time with the people and places that uplift me.
Support groups do not have a business relationship with the Autoimmune Hepatitis Association (AIHA) nor are they agents thereof or endorsed explicitly by the AIHA. The AIHA accepts no responsibility for any liability, costs, or encumbrance incurred by support groups. Support groups, while not affiliates of the AIHA, should still be mindful that any information or general advice provided to members does not constitute medical or legal advice and such input should always be solicited from professionals.