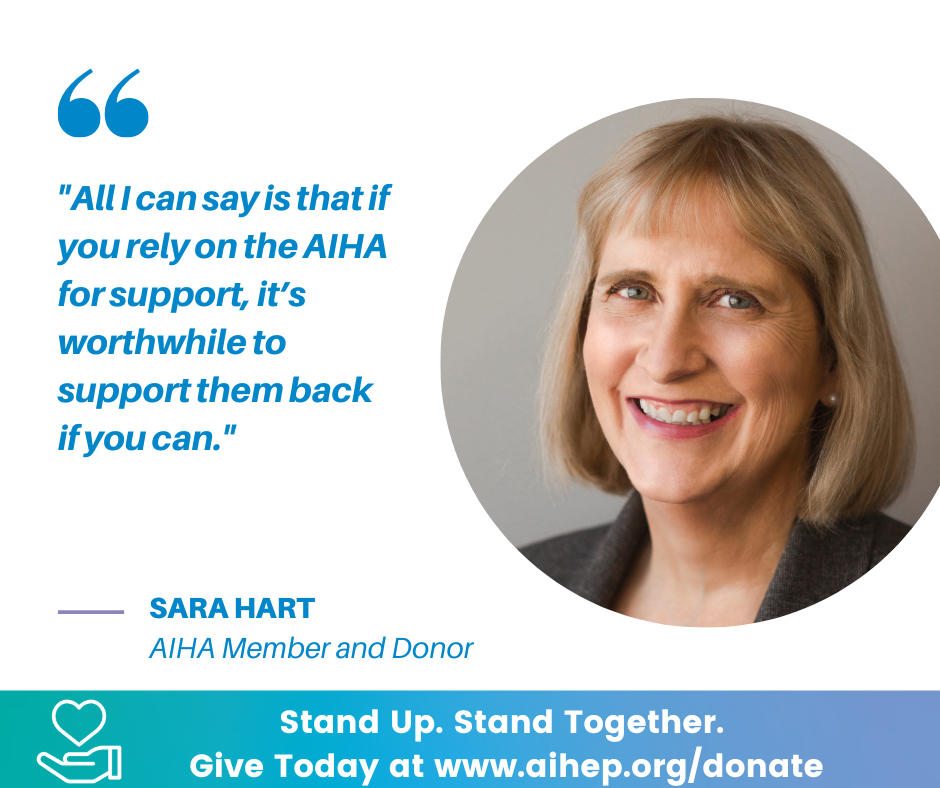 On GivingTuesday 2022, we wanted to share the first in a series of Supporter Spotlights we'll be highlighting now through the end of the year. We hope these stories of fellow autoimmune hepatitis (AIH) patients and families will encourage you to make a donation to the Autoimmune Hepatitis Association (AIHA) this giving season. Donations gratefully accepted by visiting www.aihep.org/donate.
In our first Supporter Spotlight, we feature Sara Hart, an AIH patient who lives in Nevada. She shares more about her experience with the disease, how the AIHA has helped her, and why she encourages others to donate to the AIHA if they can.
Tell us a little bit about yourself and your connection to AIH.
I was diagnosed with AIH in June, 2021. Looking back, I had experienced symptoms for several years before that. At the time of diagnosis, my liver enzymes were at nearly 1,000 and the biopsy confirmed Stage 2 fibrosis with inflammation in the 3-4 range.
My case is hard-to-control in terms of finding the right balance of medications. After the first eight months of only somewhat successful treatment, my local gastroenterologist referred me to an out-of-state hepatologist who specializes in AIH. Some of my office visits are now in person, while others are online. My medications remain a work-in-progress.
What is the most difficult thing about having AIH?
While many AIH patients are challenged by fatigue, my main issue is having a sour stomach and unrelenting nausea, like I just got off a tilt-a-whirl carnival ride. My doctors suspect that I don't have an underlying issue other than AIH. The stomach medications are just marginally helpful. I still do all the same activities that I did prior to diagnosis, I just feel queasy while doing them.
How has the AIHA helped you in your journey with AIH?
Oh my goodness, I'd be lost without it. The AIHA is my go-to resource. Other online sources tend to fall into one of three categories: (1) academic publications focused, understandably, on just one aspect of the disease, (2) well-intentioned websites that seem incomplete or out-of-date, or (3) sadly, unreliable or misleading sources that I dare not trust. By contrast, the AIHA is the one place I can go online to get useful, up-to-date, and reliable information that helps me understand this rare disease.
Why did you decide to donate to the AIHA?
Nearly thirty years ago, my husband and I mutually decided that we would select and commit to one local charity for all of our charitable giving. Then, last year, when we talked about making a donation, I added that I would like to also give something to the AIHA. He stated, "Well, we've committed to giving to the one local charity," and because he was correct, I initially let it go.
Still, I kept thinking about the AIHA and what a difference it has made in my life. So, a few days later, I broached the subject with him again by saying, "I do appreciate that we long ago agreed to give to just one charity. Even so, I want to explain why I want to donate to the AIHA this year. Let me put it this way. You (my dear husband), have recently been told that you may have Type 2 diabetes and it's scary. Let me ask, how many people do you personally know who have that disease? At least a dozen, including one of your best friends, right? Also, there are lots of diabetes-related specialists, resources, and classes in town. At our neighborhood drug store, you can purchase monitoring supplies, a cookbook, and even specialty socks. I am glad for all that; it's very helpful. At the same time, it's different for me. As someone with autoimmune hepatitis, I feel very alone. I have never met anyone else who has AIH. Before I was diagnosed, I had never even heard of it. Outside of my doctor's office, there is no one for me to talk with, no one to turn to. That's where the AIHA comes in. I rely on them to be my resource, my support, and my ally."
I waited for a long minute. Then he said, "Okay, how much do you want to give?"
Would you encourage others to donate to the AIHA? If so, why?
I recognize that donating is a personal choice and depends on a variety of factors. All I can say is that if you rely on the AIHA for support, it's worthwhile to support them back if you can.
Is there anything else you'd like to add or say?
Thank you to everyone associated with the AIHA for all you do.