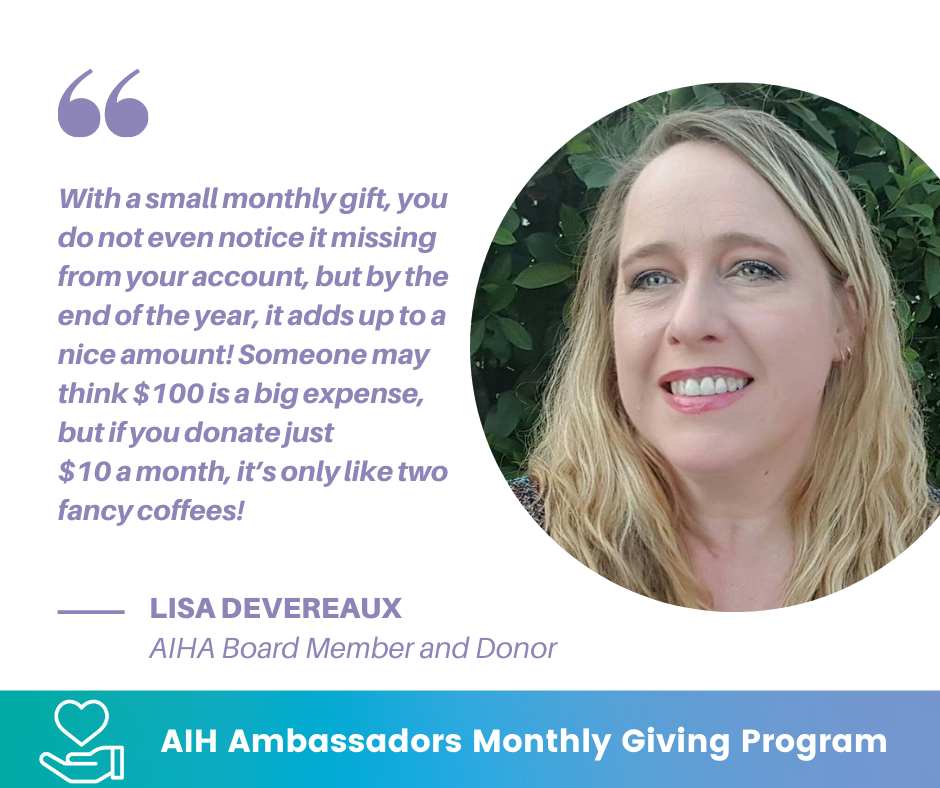 Autoimmune Hepatitis Association (AIHA) Founding Member Lisa Devereaux has been a longtime supporter of the AIHA, from making monetary donations to volunteering countless hours connecting with other autoimmune hepatitis (AIH) patients. In this Q&A, she shares more about her decision to become part of the AIH Ambassadors Monthly Giving Program, her personal experience with the disease, and some advice for fellow patients.
Why did you decide to become an AIH Ambassador by setting up a monthly donation to the AIHA?
I have been supporting the AIHA since it was founded, but I admit that at times, I did not remember to donate until I was reminded to by a newsletter or a post I saw in the group. I decided to set up a monthly donation so I do not have to rely on my memory! I may still donate for special things like a project or campaign, but at least I know I haven't missed out on donating.
Why did you choose to make a monthly gift as opposed to an annual gift?
With a small monthly gift, you do not even notice it missing from your account, but by the end of the year, it adds up to a nice amount! Someone may think $100 is a big expense, but if you donate just $10 a month, it's only like two fancy coffees!
You've been an incredible donor to the AIHA over the years. Why do you continue to support the organization, and why would you encourage others to make donations?
I donate to the AIHA because it has personally benefitted me, through the information I have learned from the organization and conferences, and the network of members I have connected with. I have been very proud to see the way we have grown as an organization, including the new support groups and outreach activities.
Please tell us about your personal connection to AIH. How are you doing today?
I was diagnosed in 2013. It was a very frightening time, but having connections with others who understood helped tremendously! Thankfully, I had a great response to first-line treatments. I have been in remission since 2014, and have been medication-free for two years now.
Why is the AIHA such an important organization to you?
I feel like I had so much support from others on my AIH journey, that it was very important to me to give back. It's so gratifying when you connect with someone who is scared and hurting, and you are able to give them hope and comfort. That is what the AIH community gave to me, and I want everyone to have that.
Do you have any advice for AIH patients?
The No. 1 piece of advice I have always given is that you MUST be your own advocate! That means educating yourself about your condition, keeping track of all your tests, and being open, honest, and even assertive with your health care team. Your doctors and nurses may be brilliant, but only YOU know exactly how you feel. If you feel truly horrible, make sure they know that! Too many people feel like they can vent online, but then they get shy in the doctor's office!
Is there anything else you'd like to add or say?
Please consider including the AIHA in your charitable contributions. Help us reach others to educate and support them. Your gift could make a real difference in someone's life, and that is priceless!
You can become an AIH Ambassador by setting up a monthly gift. Make a donation today!