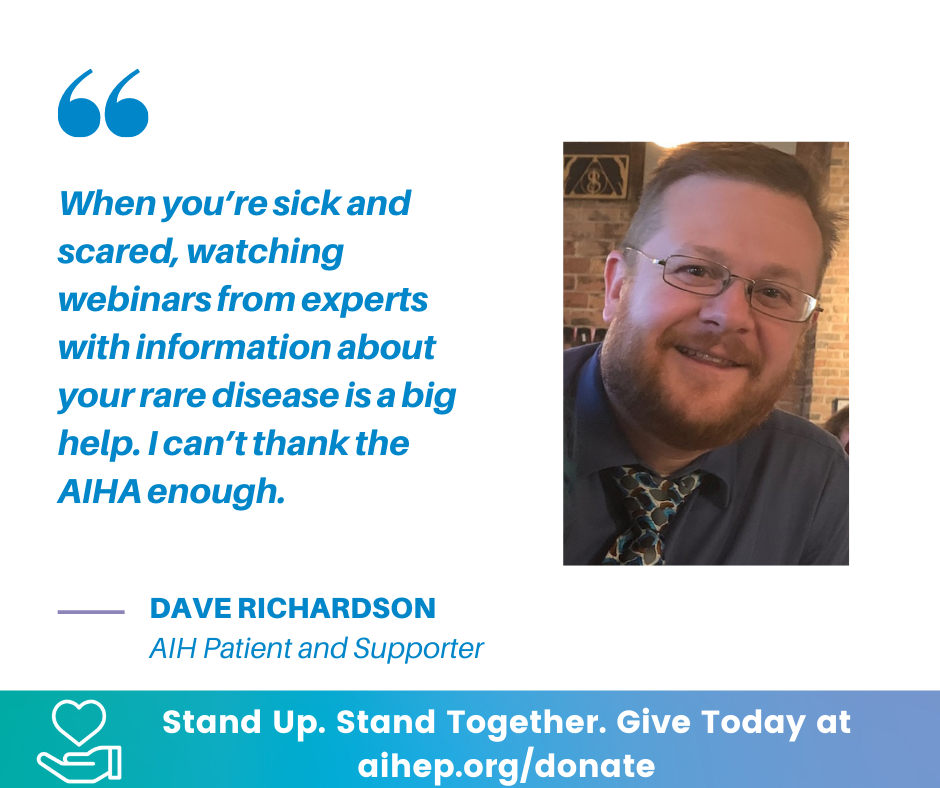 Just as the COVID-19 pandemic was beginning in the United States in early 2020, Chicago-area resident Dave Richardson started to feel sluggish and tired all the time. He didn't have much of an appetite and just didn't feel like himself.
His blood pressure ended up skyrocketing, and he started coughing and had shortness of breath. After a series of visits to his doctor and the ER that helped get his blood pressure under control, Richardson still didn't feel well.
"Fast forward to July, and my symptoms were just getting worse and worse," Richardson explains. "I had terrible brain fog. I would go into a room and forget why I was there, and I was having an awful time concentrating."
Richardson couldn't get in to see his doctor in person because he was having symptoms that could be COVID-19. At virtual visits, his provider told him his symptoms were a result of stress and anxiety. Finally, Richardson had a chance to see his doctor in person.
"He looked at my chart and asked 'how come you never followed up with me about your liver enzymes?'" Richardson recounts. "I said, 'I don't know what you're talking about,' and he asked 'When you went to the ER, they didn't tell you about your liver enzymes?' I said, 'No, they were concerned about a heart attack, and they told me my heart was fine and that I didn't have COVID-19 and to go home.'"
Additional lab work revealed that Richardson's liver enzymes were even higher than they were in the hospital, and he began to show signs of jaundice. An ultrasound suggested he had cirrhosis.
The Psychological Impact
Depression soon set in, as Richardson began questioning how he sustained liver damage. He also wondered if some of the damage could have been prevented if his abnormal labs had been flagged more quickly.
Before starting a job in the healthcare industry in Chicago in 2019, Richardson lived in Alaska and worked in hospitality at a brewery. "I certainly wasn't getting drunk all the time, but it was my job to taste the beer," he says. "I wondered if I did this to myself."
His healthcare team made it more challenging by suggesting he wasn't being honest about his drinking habits and even asked if he was a drug user. Richardson said he has never done drugs.
Specialized Care and a Diagnosis
Richardson was soon referred to a hepatologist whom he describes as a godsend. She moved quickly, ordering additional tests and shared with him that she suspected that he has autoimmune hepatitis (AIH). She managed to get him in for a biopsy in August 2020, just as elective surgeries were beginning again after being temporarily halted during the pandemic.
Later that month, on Richardson's 40th birthday, his doctor called and shared that the biopsy confirmed he has AIH. Fortunately, he did not have cirrhosis as the original ultrasound suggested. He was immediately started on a high dose of prednisone, which brought his liver enzymes down quickly.
"I now knew I wasn't crazy," Richardson says. "I was just so tired of being blown off by my primary care physician and not being taken seriously and everything taking a backseat to COVID-19. To be told what's wrong and to have a doctor that was actually listening to me was such a relief. Not once did she think I wasn't telling her the truth about drinking and drug use."
Rare Disease Education
At that point, Richardson took matters into his own hands and started educating himself as much as he could about AIH. He stumbled upon some educational webinars from the Autoimmune Hepatitis Association (AIHA).
"The resources from the AIHA were very comforting," he says. "I realized that most people who have autoimmune hepatitis can be treated successfully and live a normal life. The AIHA was a big help to me."
Richardson's liver enzymes are now in the normal range, and a recent Fibroscan shows his scarring has improved.
Giving Back
As his 41st birthday rolled around this year, Richardson felt lucky to be alive.
"I felt so blessed and wanted to do something to show my appreciation," he explains. "I really appreciate the work you all do, and it came at a time when there were discussions that I may need a liver transplant if I didn't respond to medication. I was sicker than I've ever been in my life. I honestly didn't know if I was going to make it to 41."
He decided to hold a Facebook fundraiser, and over the course of a couple weeks, Richardson raised $315 for the AIHA.
"When you're sick and scared, watching webinars from experts with information about your rare disease is a big help, " Richardson says. "I can't thank the AIHA enough."
You can support the AIHA by making a donation today!