By Craig Lammert, M.D., AIHA Executive Director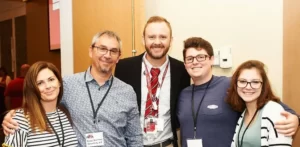 Welcome to the Autoimmune Hepatitis Association's new Interface Blog. The name "interface" describes the cellular area in the liver where inflammation associated with AIH is found. It is one place where pathologists can see the action of this disease (at least under the microscope), and we hope our Interface Blog will also give patients a detailed view and perspectives of autoimmune hepatitis.
Here, on our new blog, we will publish our most up-to-date news, educational pieces, and stories about patients just like you. We hope that you return often to see what is new, what events are taking place, and catch up on AIH-related news (including research stories, research opportunities, and clinical trial information). Our goal is that you never feel out of touch with this disease again and that you always have a community you can turn to.
As a founding member of the AIHA and hepatologist at Indiana University, I am thrilled you found us. The simple yet impactful presence of a dedicated AIH community was something I noticed was missing from my AIH patients I saw in clinical practice. In 2015, the AIHA began providing high quality AIH-related information, and we haven't looked back. We have grown and are taking a more active role in supporting patients and enabling AIH-related research. Just ask any participants within one of our seven online support groups or read one of the six peer-reviewed papers published (more on the way) that our members have supported. It is my hope that we can continue to grow the AIHA to connect and support more and more patients and families who are affected by this rare disease. Thanks for being here.